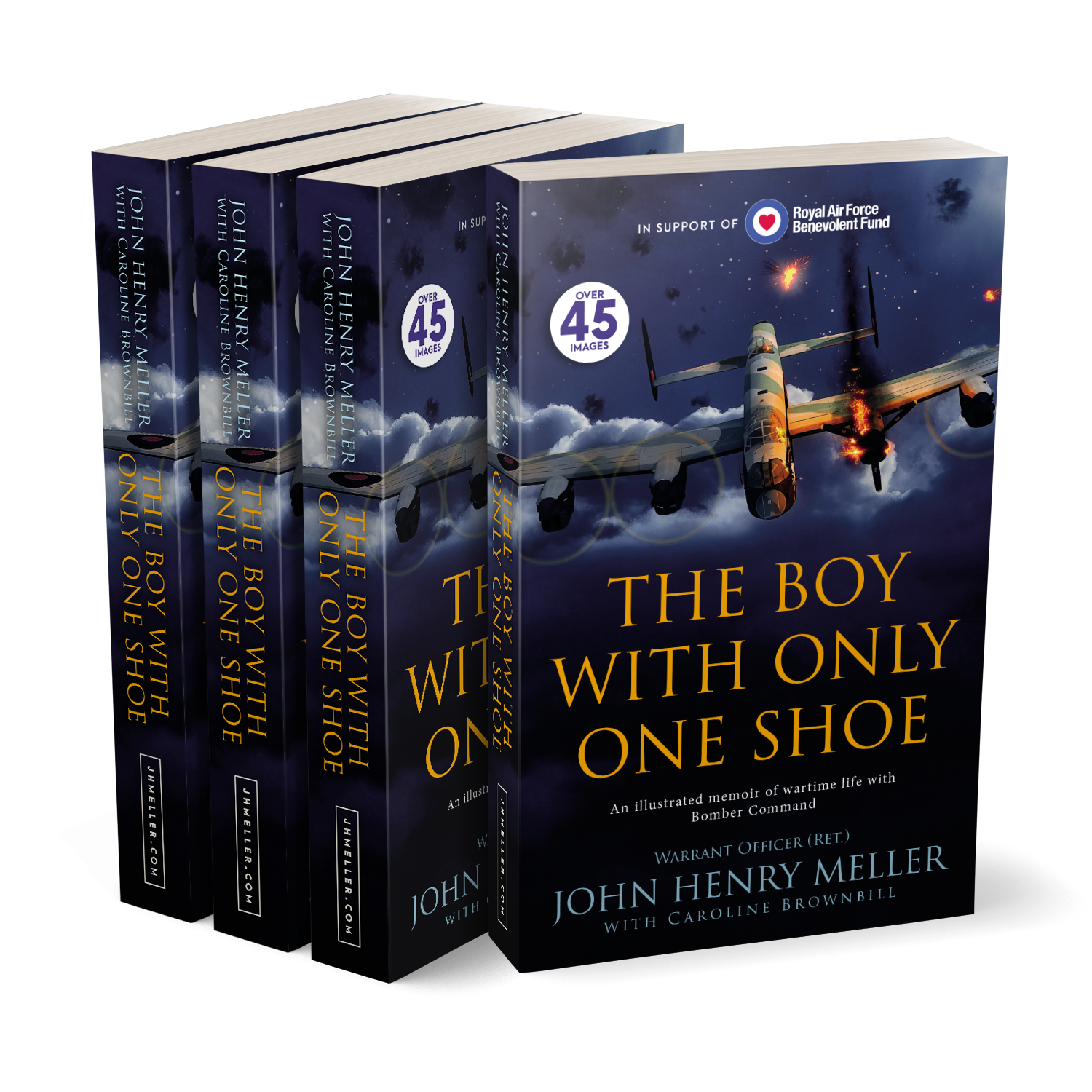 55,573
…is the number of Royal Air Force Bomber Command aircrew who lost their lives during World War 2. That's more than the total who serve in Britain's RAF today. 
With a terrifying 46% combat attrition rate, an Avro Lancaster Bomber was one of the most dangerous places to be during the conflict. Yet no one was enlisted to become aircrew: all were volunteers. So, at a time when Britain stood resolute in its fight against tyranny and oppression, young men from across the globe did just that.
At just 18 years old, John Henry Meller was one such man.
As few remain to bear witness to that time, John - together with daughter Caroline Brownbill - have chosen to document his vivid recollections of wartime life.
Join him, as he shares what it was like to crew a Lancaster over Europe during the darkest days of the War.
Buy The Book And Support A Charity!
With the release of The Boy With Only One Shoe, the authors have chosen to donate a proportion of all received royalties to two charitable organisations. The work of both are close to the book's themes and the authors' hearts.
All editions of the book are available via Amazon.
---

Since its foundation in 1919, the RAF Benevolent Fund has been there, through thick and thin, supporting the RAF Family. It is an independent charity and receive no regular Government funding. It relies entirely on public support to continue their work.
Discover more at the RAFBN website.

The Bomber County Gateway Trust was formed with the object of designing and constructing an iconic gate guardian for the county of Lincolnshire.
The structure is a permanent art installation, being a full-sized representation of an Avro Lancaster Mk1 Bomber constructed from a steel frame, mounted on a slim steel support structure to give the impression that it is in flight on the horizon, flying "home". 
Learn more about this project at the Bomber County Gateway Trust website.
John Henry Meller…
On leaving the RAF in 1950 John joined the Metropolitan Police becoming a Detective Inspector at Scotland Yard. He was involved in cases such as the Kray twins, the Great Train Robbery and many major Post Office and Treasury Department frauds. 
At 95 John is currently occupied writing his second book 'On the Beat with Only One Shoe' with the help of his daughter and co-author Caroline.
Caroline Brownbill…
...is John's daughter and co-author.
After qualifying with an Airline Pilot Transport Licence (ATPL), Caroline flew commercially for 20 years, finishing her career as an Airline Captain for British Regional Airlines at Cardiff Airport. Caroline says she only became an Airline Pilot because her father John forgot to pick her up from college one day – but that's a whole other story!
She now works full time along with her daughter Stephanie running their own Livery Stables from their small holding in South Wales.
John's Making News!…
John was recently interviewed about his life and wartime memoir - 'The Boy With Only One Shoe' - by ITV News.
Here's that interview...
'The World Wars' Podcast
John -  together with wife Barbara and daughter / co-author, Caroline - was the subject of a podcast by war historian and broadcaster James Rogers, for the History Hit Network's 'The World Wars' podcasts.
The full programme - 'The Lancaster Bomber - A Veteran's View' - is over 35 minutes in length and makes for a fascinating exploration of the subject and themes from John's life, as captured by his book 'The Boy With Only One Shoe' .
Click the logo to hear the podcast!
John Henry Meller: Bomber Command
…is a unique audio-visual collage exploring the timeline of John's life, as covered by his book The Boy With Only One Shoe.
The video - which clocks-in at around 42 minutes! - uses archive imagery, music and on-screen facts to wonderful effect and is a lovely companion piece for those looking for a further immersion in this important - and personal - period of history.
The video's creator is Chris Bent.
Enjoy!
Contact John  & Caroline today!